︎ brand strategy, user experience, product innovation
the challenge


help the richmond times dispatch become a news source that millennials are willing to pay for.


the solution

the circle - an arm of rtd that's dedicated to breaking down questions the community wants answered and reporting on the solutions that work.



---
the situation
like most local newspapers, the richmond times dispatch is struggling to survive. their readership has been steadily declining over the last few years, and they want to rebuild their audience by targeting 18-34 year olds.


the problem
gen z and millennials regularly pay for their news, just not the richmond times dispatch.


the realization
rtd isn't connecting with a younger audience because it's not representing a younger audience.
consumer truth

when 18-34 year olds read local news stories, they either 1) feel informed about issues in the community but they walk away with unanswered questions, feeling powerless and confused about how they can actually help solve the problem, or 2) the news doesn't relate so they forget about the issues altogether.
category truth
the newsroom controls all of the reporting, making local news consumption a passive process.


the opportunity
connect with readers by making news consumption more active and involved through a solutions based journalism approach to local news.


the solution
the circle - an arm of the richmond times dispatch that reports on not just the problems in the community but also possible solutions.


---
---

big picture reporting

the circle reports on issues that are effecting the community and provides multiple perspectives on those issues.



community engagement
topics are suggested and voted on by the community. the circle
empowers people to be a part of the solution by focusing on the issues that matter most to them.

membership vs subscription model

readers are considered members of the circle, rather than subscribers. the goal is to build a community of engaged proactivists.


---
solutions journalism
the circle takes a solutions jornalism approach to news reporting, which means reporting on not just the problems in the community but also possible solutions, giving people the complete story.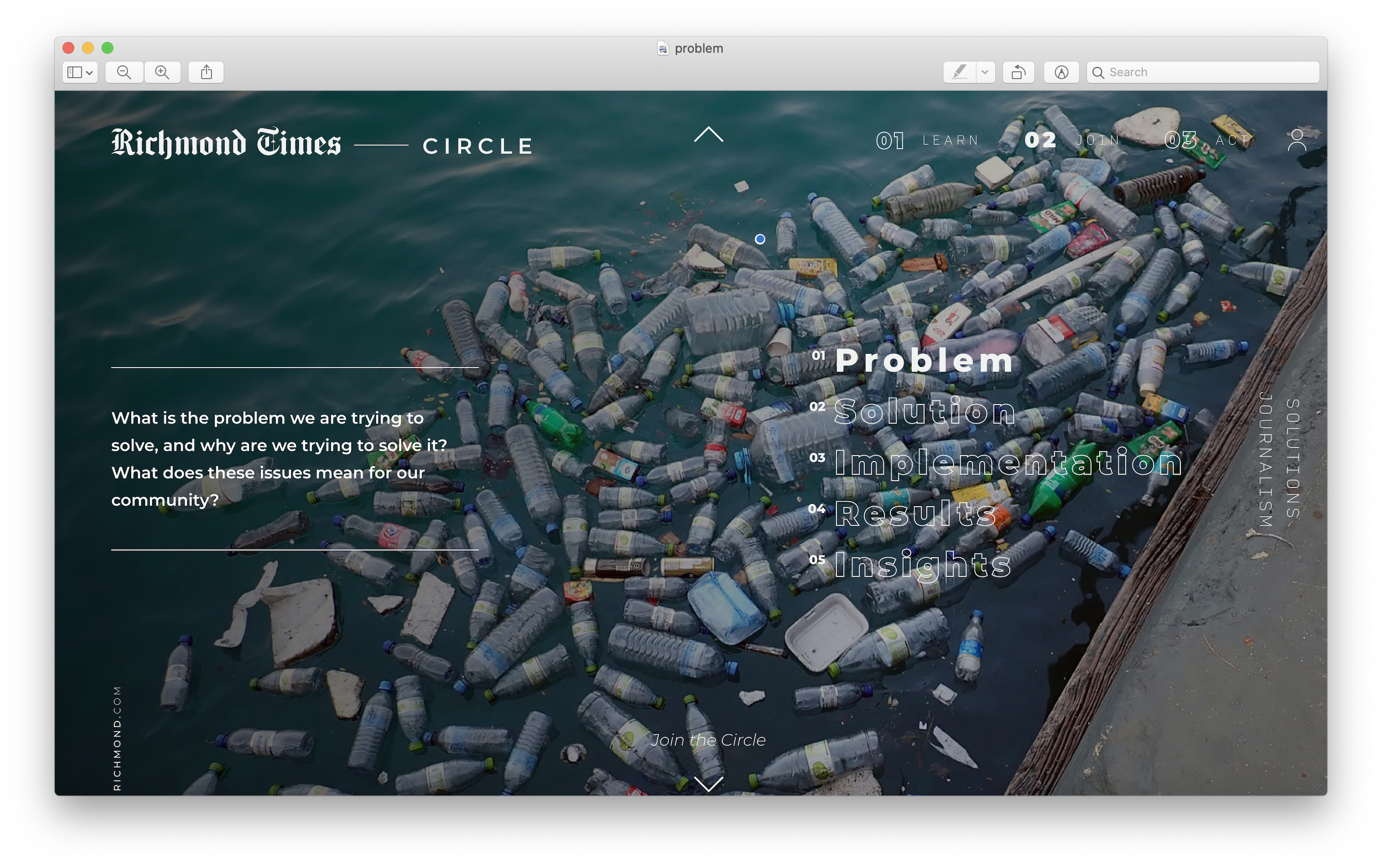 (click through)

---
the prototype


01 - learn

circle topics are covered for a period of 2-3 months. This encourages readers to follow stories and not forget about issues once they are consumed.
02 - join
the circle is made up of a community of enthusiastic like-minded members versus disconnected subscribers.
(click through)
03 - act
readers can vote on the kinds of topics they want the circle to report on.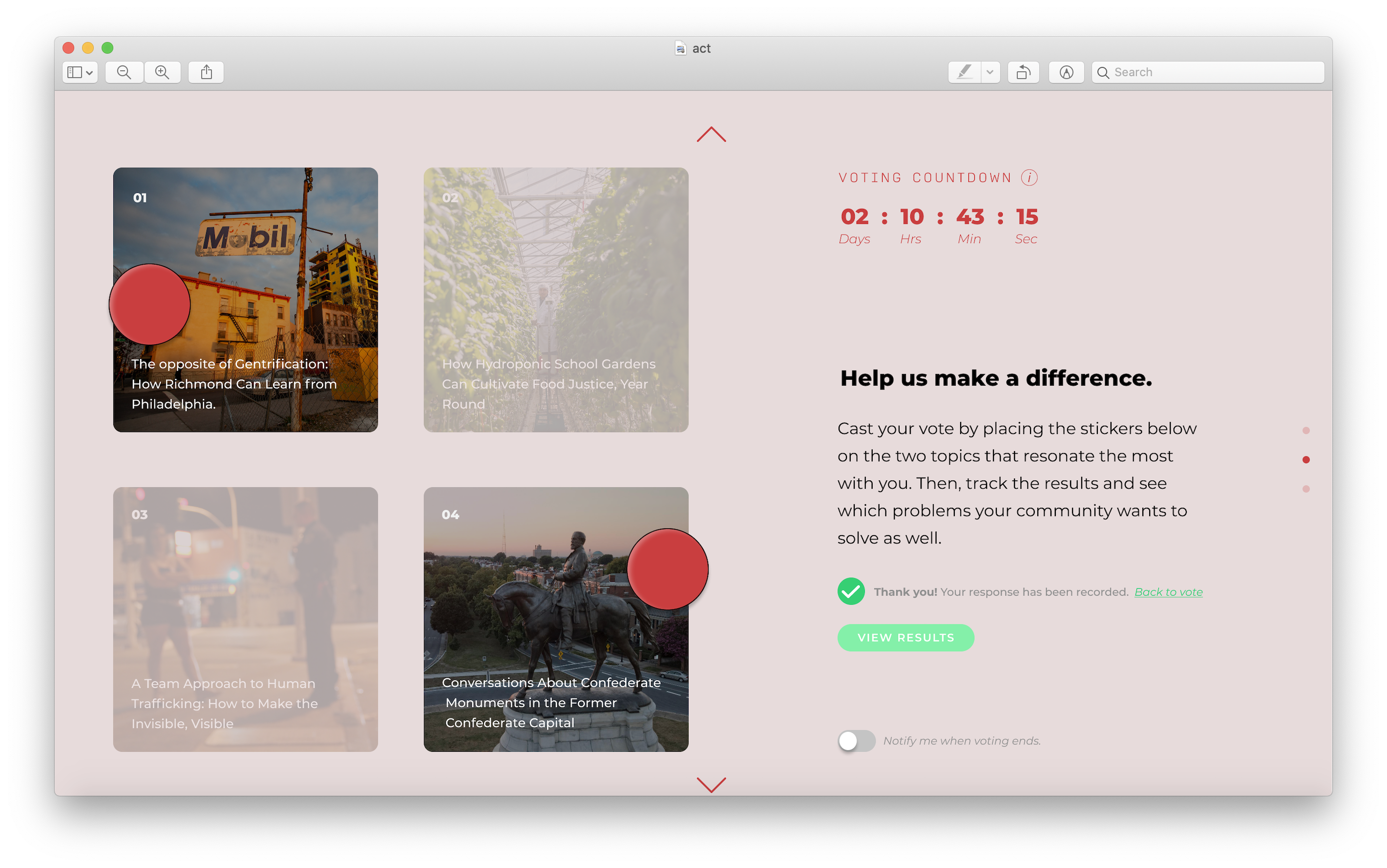 (click through)
---
user validation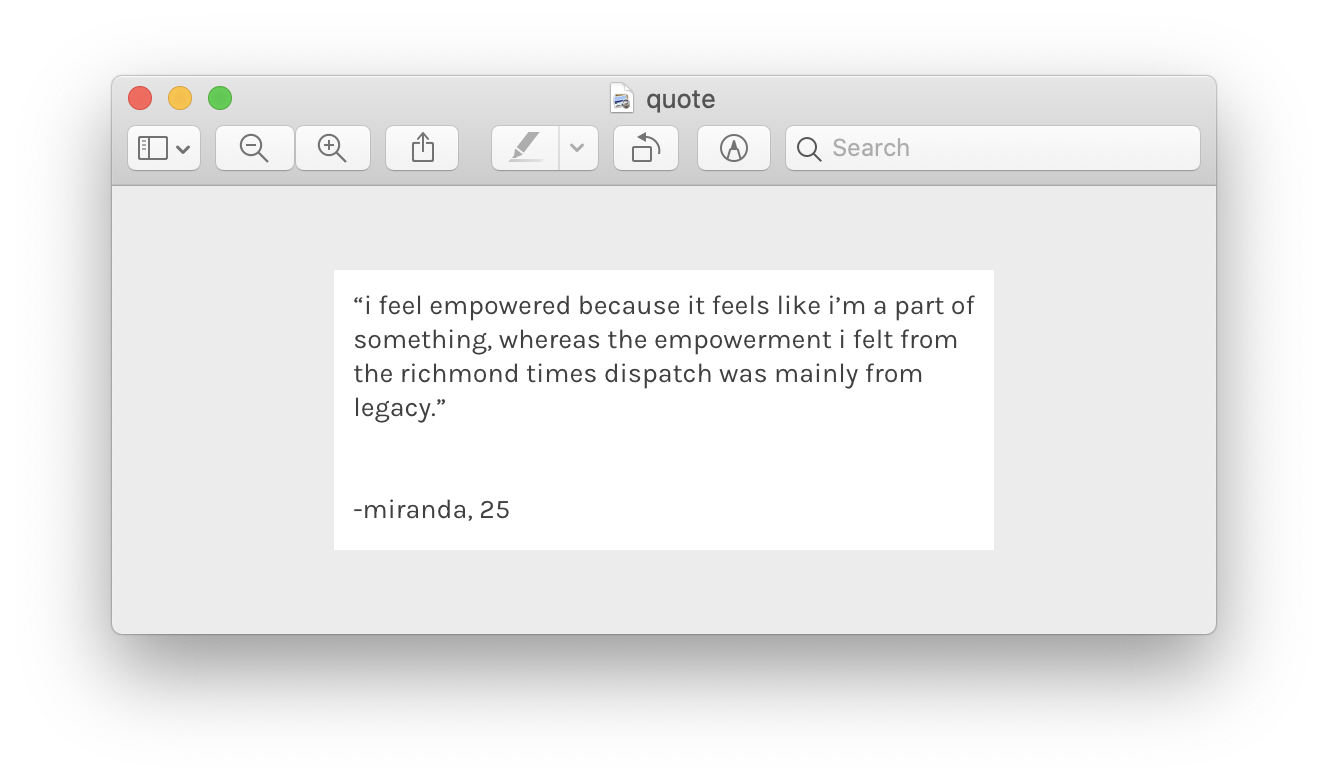 ---

user testing

we measured how many richmond times dispatch and circle headlines users were able to generally recall or completely recall.

tasks | richmond times dispatch

1. read the headlines of top stories
2. visit the "about page"
3. find how one might submit a story idea
4. recall top headlines

score 2/4



tasks | the circle

1. introduce the circle's homepage
2. read solution journalism approach
3. complete story selection process
4. recall top headlines

score 4/4



---
marnie abraham (strategy)
joe mrava (experience design)
lauryn goodlett (experience design)
payal pereira (strategy)


my role
category and competitor research, social listening, brand audit, deck narrative, client presentation



---